Najma Khan
Co-Founder & Transformational Coach
"Take a firm hold of life, steering it to where you want to go."
Training
Najma is a qualified cycling instructor, life coach and professional interpreter with over 20 years' experience in the social, legal and NHS sectors. Like her fellow co-founders, she is qualified in Neurolinguistic Programming.
Najma's approach and training enables her to connect and guide members to make healthier choices. Through positive language coaching and cycling, they uncover new abilities. Skills they can implement in other parts of their life.
It's never too late to make a change. Cycling is just the start.
Book Najma for private coaching, group sessions or an event. 
Cycling
Ride Leadership – Level 1 – British Cycling UK
Cycling Instructor – British Cycling UK
Bicycle Mechanic – Cycling UK
NLP
Neuro-Linguistic Programming (NLP) Practitioner. An internationally recognised professional qualification which allows individuals to practice as an NLP Practitioner. Life coach's that can assist people in many areas of their life.
Interpreter
Urdu, Punjabi, Mirpuri

Pothwari

,

Hinko

and Pashto

Ascentis: Interpreting Level 3 (QCF)
Ncfe: Professional Interpreting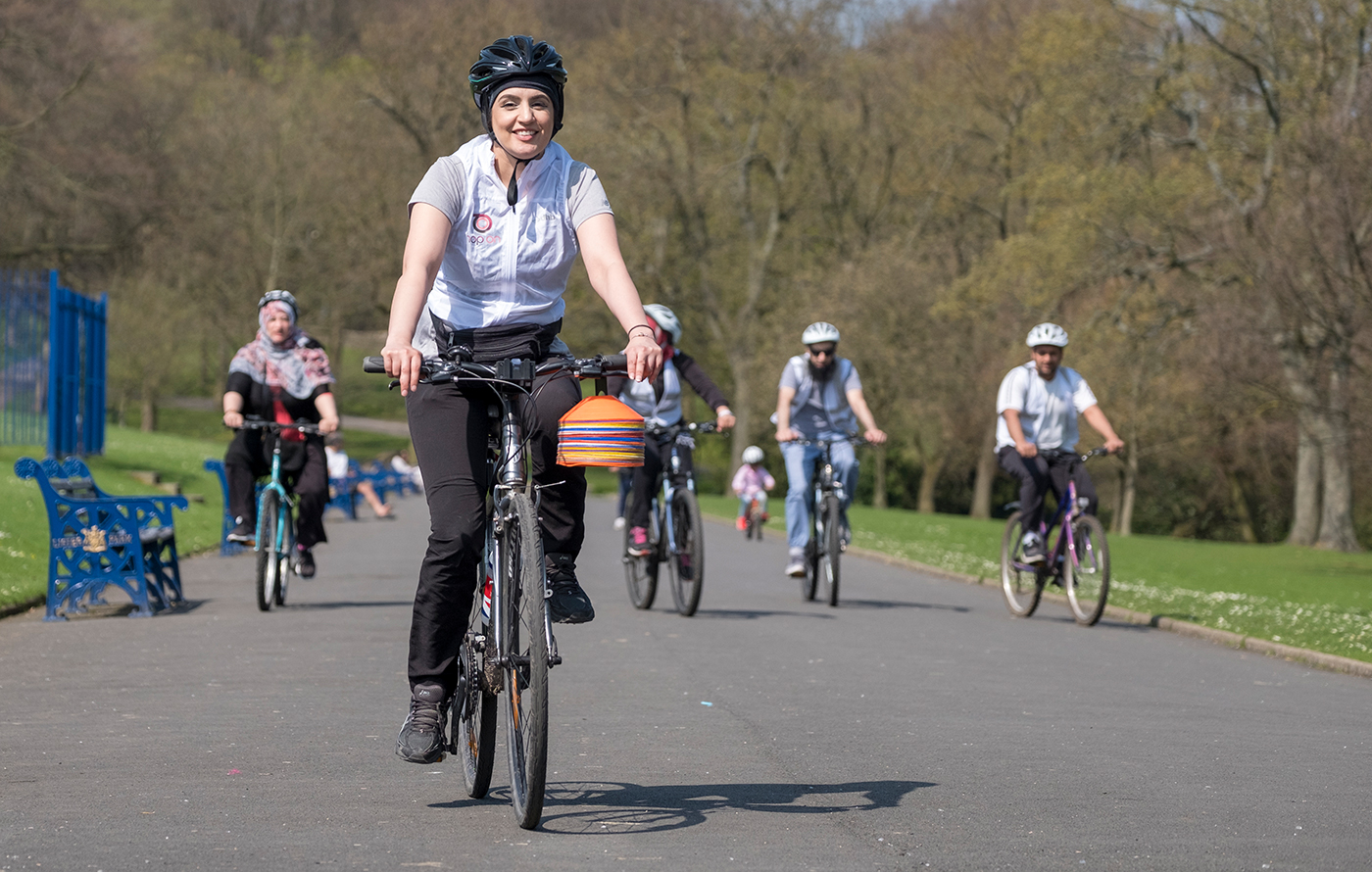 Story
I come from a patriarchal South Asian society. The roles that were placed on the shoulders of young women from my community were very clear. And like many young girls of that generation, I complied without questioning. Married at the age of sixteen with no opportunity for further education. I always yearned for freedom to explore more.
Bike Memories
At the age of twelve during school holidays, I would go to a friend's house in the neighbourhood where I had access to her brother's bike. Riding this bike from the house to the local park I would feel a sense of excitement. I always felt I entered a new world feeling indestructible and free. I remember these childhood memories very fondly.
Finding Myself Again
By the age of twenty-seven, I was a mother of four children. I was fed up of the same old day in day out roles and started to venture out to find my own self and identity. I felt I had lost the essence of me.
I was a daughter, sister, wife and a mother but I knew there was more to me. I went back into education and got my qualification as an Interpreter.
As I juggled bringing up four children and working, I met some amazing people from all walks of life. I am privileged that I have had the opportunity to work with many different organisations and professionals – from mental health teams and psychiatrists, to counsellors, women's refuges, courts, police, NHS and many more.
Our Journey Together
I met two wonderful amazing women Shahida and Fozia, each with a story of their own to tell. They too were on their own journey of discovery and had come along way. They both had a different outlook and approach to life and it was an insight to a world that was very different to mine. I was fascinated by this and I learnt so much from them, They were inspiring women who thought out of the box. Today, I am very proud to call these inspirational people my friends.
Re-discovering Cycling
I was also introduced to the world of NLP which I studied enthusiastically. It helped me break free from the instilled limited beliefs and shackles that I grew up with.
My friend's both had a special and different relationship with their bikes finding solace, inner peace and strength. With the support of my friends and personal courage, I rekindled my love for cycling and got back on the bike after twenty years. I felt like I had broken the shackles of tradition and culture, feeling free and alive again. Feeling liberated.
Sometimes when cycling with my friends, I had to pinch myself. I couldn't believe I had come such a long way. I had broken unspoken rules and boundaries and there was no stopping me now. I had unearthed a new confidence and nurtured a different woman that was hidden inside of me.
With time, the women of my community changed from being shocked and raising their eyebrows, to looking at me with admiration. I felt I had earned and gained their respect. They had warmed to the idea and were taking a great interest in cycling for themselves.
Starting Hop-On
I would talk with Shahida and Fozia for hours over cups of coffee. About our life experiences and how much we had grown as people. And how it would be wonderful to be able to help other women too.
From becoming NLP therapists to cycling instructors to bringing women and girls of different communities together, Hop on was created.
We shared laughter and tears with these wonderful women and had seen so much positivity and change.
It's not just about getting on a bike, it is so much more. It is taking a firm hold of life, steering it to where you want to go, peddling and breaking free, guiding others to liberation and helping them to also Hop On and take this journey with us.