We see the power of sport. activity which improves physical, emotional and mental wellbeing. And creates connections between communities.

ready to join us?
3000 + Growing
Anything's possible. That's our mission. Hop-On co-founders Fozia Naseem, Shahida Kishver and Najma Khan "clicked" over their shared vision: to bring a feeling of endless possibilities through the power of physical activity. We liken it to that feeling you get after riding a bike solo for the first time. You know that wind in your hair, I can do anything now feeling.  
Hop-On is for everyone. Our one of a kind transformational coaches guide people to push the limits of what they can achieve, overcome their challenges and improve their fitness.  Whether it's cycling, yoga or walking, the Hop-On experience is fun, fitness and the freedom of endless possibilities.  
Our members are our community.   You won't find any weekly Leader Boards at Hop-On.  Our trained instructors work with you at your pace.  Over time, friendships are made.  Alongside our weekly cycling groups, we hold monthly Hop-On Socials. Over time, we've supported some members to become instructors. With over 2,500 members, we're growing together.  
It's more than just the bike. Hop-On is designed to benefit the mind, body and soul. We are a female-led social enterprise supporting other women to push their limits. Our instructors combine physical activity with their communications and neurolinguistic training. Ready to realise anything's possible?  Join The Movement! 
Fast Facts: Hop-On
Social Enterprise launched in 2018;
Co-founders: Fozia Naseem, Shahida Kishver and Najma Khan;
Over 2,500 community cycling members in Bradford and wider area;
British Cycling certified instructors;
Cycling programmes for beginners, adults, children, women only groups, people with disabilities;
Free Bike Rental – our prices include free bike rental. This is made possible through our 'bike donation' scheme – donate your unused bike and our mechanics will make sure it's fixed and safe for a new rider; 
"Relieved to see so many others like myself…ready to conquer the world of cycling."
Every week we're joined by over 40+ riders in Lister Park, Bradford.  It's always our goal to create a safe and trusting space which:
enables personal growth;
connects communities together;
builds confidence to tackle physical and mental challenges;
reduces isolation and encourages conversations about everyday issues;
overcomes cultural cycling barriers;
improves health and wellbeing;
is inclusive for all of our riders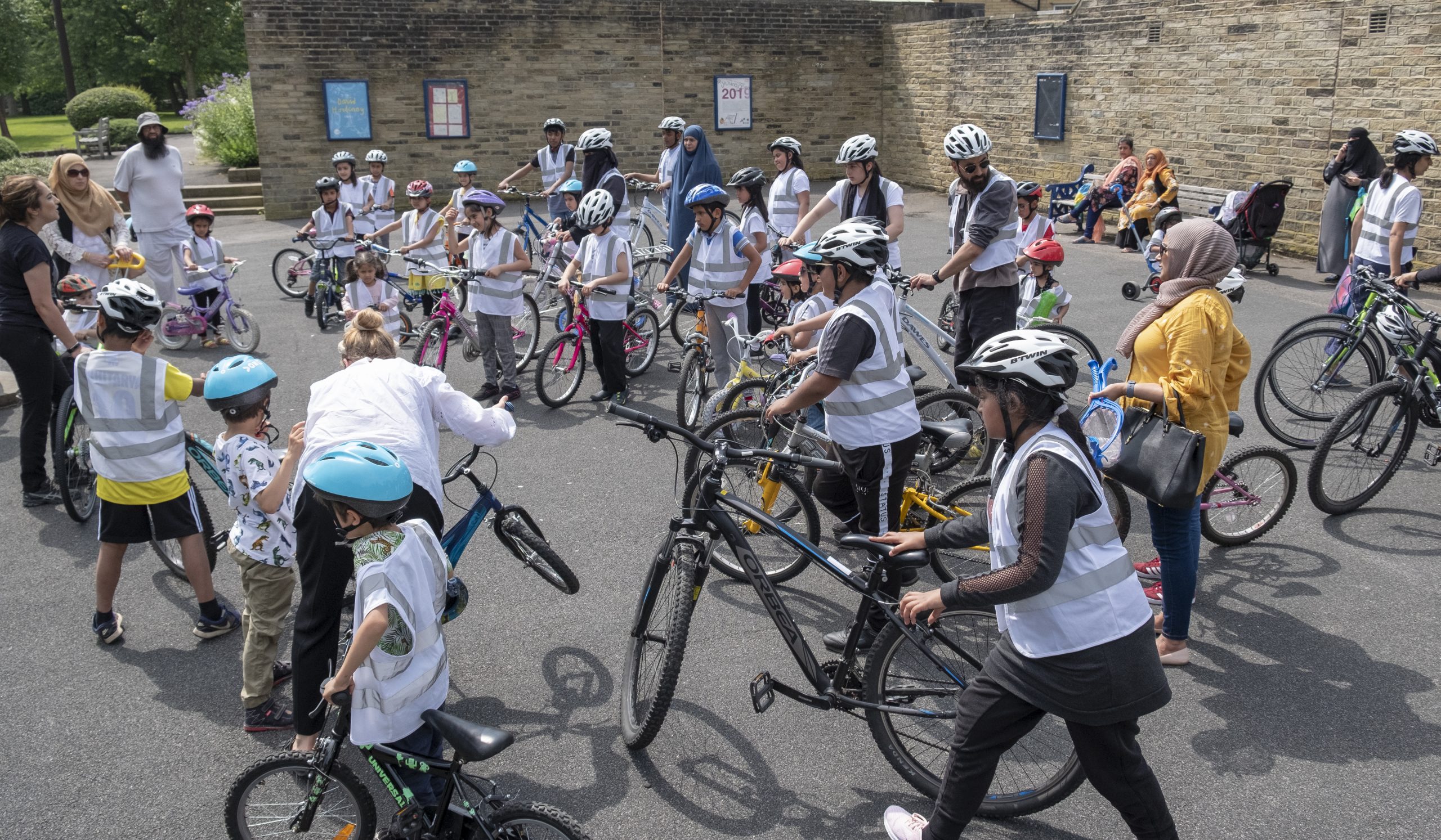 Our Team
No matter what gets you started, we're here to support you. Over 2,500 people have taken part in our cycling groups. All of our cycling instructors are trained by the best – British Cycling UK, the National Governing Body of cycling and home to the most successful team in Olympic history, the Great Britain Cycling Team. What makes Hop-On different?  We take the time to create a trusting and fun environment which allows our members to learn and thrive. Not only that, our co-founders – Fozia, Shahida and Najma – are all Transformational Coaches – using the power of communication and sport to help you create positive changes which last a lifetime.  Learning to ride a bike is just the beginning…join Hop On.
Fozia Naseem is multi-sport coach, certified in cycling and yoga, who uses Neurolinguistic Programming to create transformative change. Within six years, her mind-body approach has helped thousands of people learn to ride a bike and live with renewed energy. She is a member of the Adidas / Impact Hub Houston sports entrepreneur programme – one of only 30 people selected globally. 
Shahida Kishver is a certified sports coach delivering cycling training and walking sessions. She is a qualified NLP practitioner and also offers Eco-Coaching. As a Neurolinguistic practitioner, Shahida understands the impact of words. How they connect as a bridge between the mind and body to bring balance.She uses her coaching skills to build relationships that are fun, mutual, respectful and trusting.
Najma Khan is a qualified cycling instructor, life coach and professional interpreter with over 20 years' experience in the social, legal and NHS sectors. She is a qualified  NLP Instructor.  Najma's approach and training enables her to connect and guide members to make healthier choices and uncover new abilities; skills they can implement in other parts of their life.
Do I need to own a bicycle to join you?
That's no problem. You can use one of our bikes. Thanks to our bike donation scheme, we've got plenty of different sizes and colours. As trained bike mechanics, we make sure they're all road-tested.
When you decide to buy a bike, you're welcome to bring your own.
Do You Offer classes for adults?
Yes, Hop-On is for everyone.
So don't worry if you didn't learn to ride a bike as a child. You'll be pedalling away soon!
how much are your 'Learn to Ride' sessions?
All of our cycling programmes are the same price:
£2 adults (16+)
£1 under 16
Find out more about our cycling events on our What We Do page.
Are your cycling instructors trained?
Yes, the health and safety of our members is our priority.
All of our cycling instructors are certified by British Cycling UK, the National Governing Body of cycling. They are qualified to deliver the National Standard for Cycle Training in England and Wales. They're also trained by Cyling UK as Bicycle Mechanics.  Find out more about our instructors above on their individual pages.