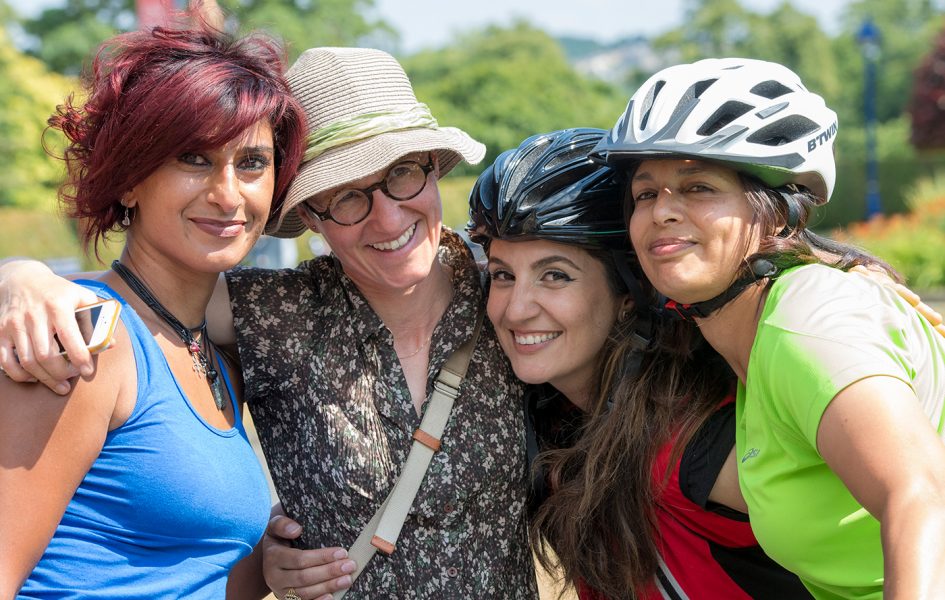 Islabikes were recently fortunate enough to spend a day doing a photoshoot with perhaps the most inspirational cycling project in the UK today. Hop On, based in Bradford is the brainchild of three women, Fozia Naseem, Najma Khan and Shahida Kishver (pictured above with our own Isla Rowntree, 2nd left).
Tough beginnings
It's fair to say that each has overcome some serious challenges in life. Shahida was sent overseas for 8 years as a child and was no longer able to enjoy the hobbies and education she enjoyed in the UK. Fozia was made to feel worthless and unloved as a child due to the behaviour of the adults in her life and Najma was the subject of a patriarchal culture that enforced stifling gender stereotypes on her. All had their freedom curtailed at the expense of their happiness.
Other than the similarity of the challenges they faced there was a passion they all shared from a young age: cycling. "As a very young child I spent a lot of time playing on the streets and would ride any bike I could get hold of. Up and down and in and out of the city streets. I owned the world!" remembered Shahida.
For all three cycling became a method of escape, however brief, from the oppressive situations they were experiencing. Fozia explains, "During this time, the one thing that did provide some stability in my life was cycling. I saw the world from a different perspective, discovering a sense of belonging and connection with nature. It gave me self-respect and the space to make positive changes to flourish into the woman I am today."
A moment of inspiration
It was a chance interaction in a park one day that planted the seeds of what was to come recalls Shahida, "Having stopped for a rest one day, a lady came up to me and started chatting. She said she envied me and wished she could ride but it was not an opportunity afforded to her in her community. I discovered she didn't just want to physically ride a bike but also wanted to find the freedom to leave the box in her mind she had been hiding in for many years."
As firm friends Shahida, Fozia and Najma would often get together for a coffee fix and bounce ideas off each other. Whether they realised it or not all shared an urge to make the world a better place. All went on to study and become qualified in Neuro-Linguistic Programming (NLP) and other self-help techniques. Could they fuse their desire to help others with their shared passion for cycling? That's how Hop On was born.
Changing lives with cycling
Hop On is a group for women and girls of different cultures and backgrounds which creates a safe, supportive and social environment where cycling is the vehicle, both literally and metaphorically, but it's not just about the bike. It's about the psychological benefits that riding can deliver. An ethos that we at Islabikes passionately share.
The team have so many stories about the transformative impact of their work on the lives of women and children alike as Fozia explains, "We worked with two young girls who were so nervous and timid, with no confidence due to them not being successful in past cycling training at school. They'd been bullied about having not got through. They had lost confidence to the extent they didn't want to ride their bikes anymore."
"We tackled this issue first by just having sheer fun with them, making them giggle while we made idiots out of ourselves on the bike to just establish good rapport. We also worked to reframe their relationship with their bikes from one based on a fear of failure to one based on fun." After working with them for a while we received a letter from their parents, which included this extract written by one of the girls themselves. "In 2015 I failed my Bikeability. I was so upset because I was the only one who had failed in my year. I couldn't stop crying, I felt like a fool, I was so heart broken. Also, some of my friends, who had passed, teased me and said that I was rubbish."
"When I knew it was coming up to Bikeability time again this year, I was really scared. I had tried to practice, but still didn't have the confidence I needed. School asked me if I wanted to try again, I said yes, but I really wanted to say no. I couldn't sleep well as I kept remembering what had happened last year."
My mum arranged for me to have some cycle skills lessons with Hop On. It was really good fun and I didn't feel the same pressure as I did at school. When I did my Bikeability this year I felt really confident and…I PASSED!!!"
The experience with Hop-On has been transformative for children and adults alike, as Fozia explains, "A lady came to one of our sessions having settled here from overseas. She lacked confidence in socialising as English was not her first language. She also has some health issues which bound her to a wheelchair. Having received treatment for her illness she was able to walk again. She came to Hop On because she wanted to challenge herself as she had never learned to ride as a child. She felt that if she could learn to ride a bike then she could achieve anything and exercise herself back to better health."
"With the motivational support and the power of linguistics, it only took her a couple of lessons with us before she actually rode a bike for the first time. Her eyes were filled with tears. We recorded her riding as she wanted to share the moment with her family. She was so grateful. This is when she shared her past story with us and felt that because of what she had accomplished through our training with the bike, she felt she could accomplish anything if she put her mind to it."
A bright future?
Getting Hop On off the ground and keeping it going has been anything but easy. All the group's bikes have been donated or salvaged from scrapyards and repaired by a mechanic or the group themselves. They also loan bikes from other groups but never have enough bikes in good repair which limits the number of people who benefit. The group receives no external funding and keeping it going is tough.
Islabikes are doing what we can to ensure the group have some high-quality bikes. The hope for the longer-term is that they will be able to secure funding to keep their group on the road and help it grow. If there was ever a story about the life-enhancing power of cycling this is it. To quote the Hop-On team themselves,
"Only members of the community can change a community, and you are the best place to start.
Change like this starts slowly. Change like this starts with you.
We invite you to hop on and take this journey with us."